What are Golden chips?
Golden chips allow you to play our table games for free! They can be used in place of standard chips to place any type of bet.
How do I activate my Golden chips?
If you are awarded Golden chips from a promotion, you will be given the option to accept or decline. Selecting "Accept" will make the Golden chips ready to use on the selected game.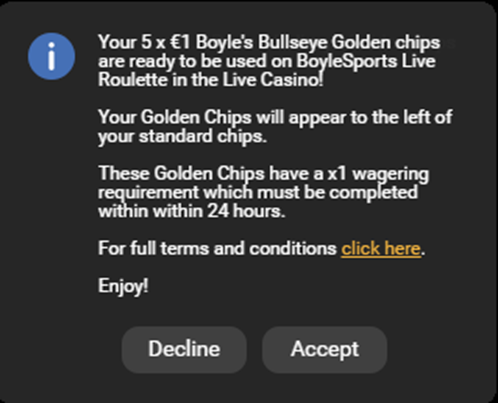 If you decline the Golden chips, they will no longer be available to you.
Where will I find my Golden chips?
You will find your Golden chips alongside or underneath your standard chips, depending on the game.


The value of the Golden chip will be displayed in the middle of the chip, while the number of Golden chips available will display as a smaller number at the top of the chip.
How do I use my Golden chips?
Simply use your Golden chips as you would a standard chip! You can even play your Golden chip with standard chips if you wish.
Are there any restrictions?
Only one Golden chip can be used per game round.
The value of a Golden chip is not included in any winnings.
Are there any wagering requirements?
Any wagering requirements will be set out in the terms of the bonus and in the popup message you receive to accept or decline the bonus.
As an example, the x1 wagering requirement in the screenshot above means you would just need to use the Golden chips on the qualifying game and any winnings would be yours!
What happens if I decline the Golden chips by mistake?
Please contact us and our agents will be happy to review and recredit the Golden chips if possible.