Q: How can I add or change my payment method using the mobile app?
A: You can easily add or change your payment method through the "My Account" section of the mobile app. Follow these steps:
Step 1: Access the "My Account" section by clicking on your Account Balance, located in the top right-hand corner of the Home Screen in the Mobile App. Select "Banking" to display our cashier page.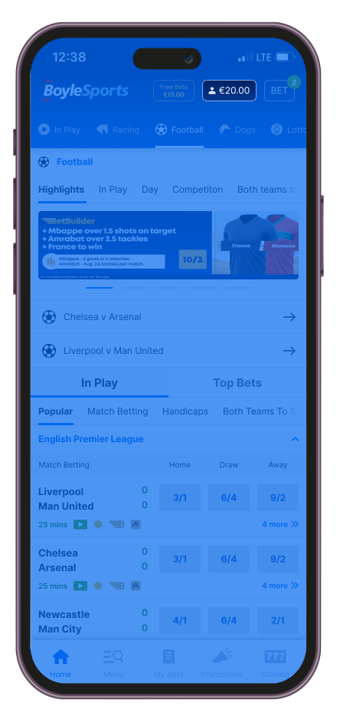 Step 2: Select 'Manage Payments' from the 3 options below your account information.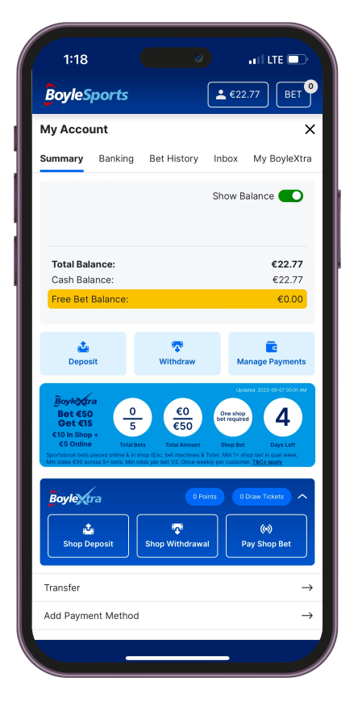 Step 3: Choose your desired Payment Method from the available options.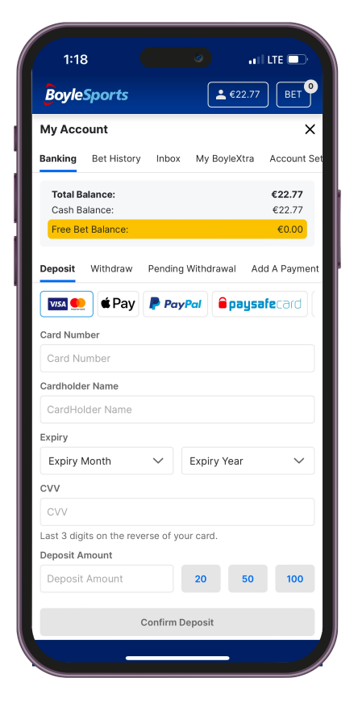 Q: How can I contact BoyleSports customer service?
A: We offer three recommended options for contacting our customer service team:
Webform Link (Recommended) : If you prefer to contact us via email, please use our webform to submit your query. You can access the webform by clicking on the "Contact Us" link located in the footer of our website. Fill out the form with your name, email address, and a brief message outlining your question or concern. Our customer service team will respond to your email as soon as possible.
Our live chat service is available 24/7 and is the quickest and easiest way to get in touch with us. Simply click on the "Chat" button located at the bottom of this page, and our customer service team will be happy to assist you.
Call: ROI 1800 22 00 66. UK 0800 22 00 66, international +353 42 604 1800