How can I add or change my payment method using the mobile app?
To add or change your payment method using the mobile app, follow these simple steps:
1. Access the "My Account" section by clicking on your Account Balance, located in the top right-hand corner of the Home Screen in the Mobile App. Select "Banking" to display our cashier page.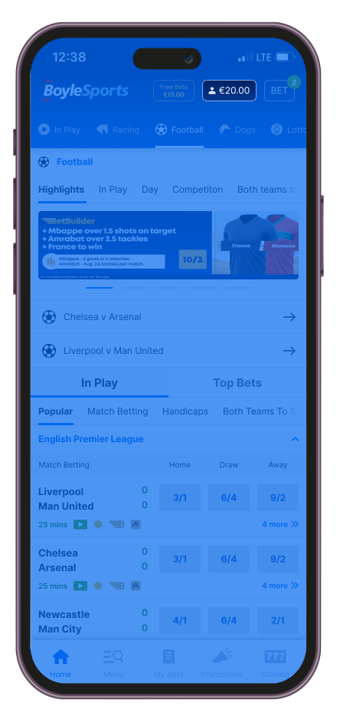 2. From the options below your account information, choose "Manage Payments".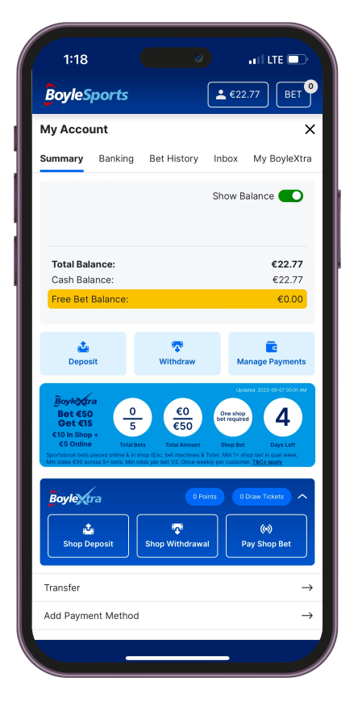 3. Select your preferred payment method from the available options.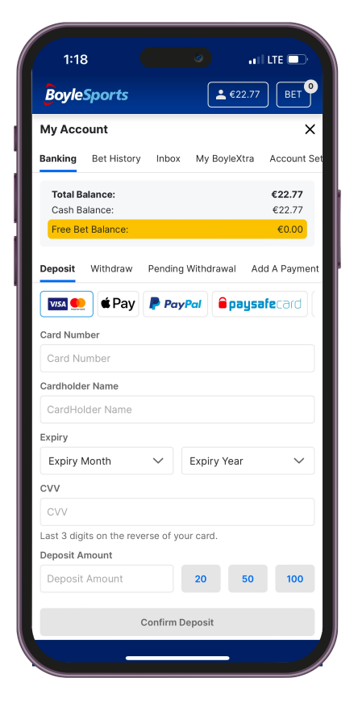 Encountering Difficulties?
If you encounter any difficulties or need assistance while registering a new payment method, don't hesitate to reach out to our dedicated Support Team. They are ready to help you through the process and address any concerns you may have.
Enjoy the convenience and flexibility of managing your payment method with our mobile app. We're here to make your experience as seamless as possible.
If you need to get in touch with BoyleSports customer service, we provide three recommended options:
Click Here (Recommended) : For email inquiries, use our webform. Fill out your name, email address, and a brief message outlining your question or concern. Our customer service team will respond promptly.

Chat Link: Our live chat service is available 24/7 and offers the quickest and easiest way to reach us. Just click on the "Live Chat" button at the bottom of this page, and our customer service team will be there to assist you.

Call: You can also contact us directly 24/7 through phone. For calls within ROI, dial 1800 22 00 66. UK callers can dial 0800 22 00 66, and international callers can reach us at +353 42 604 1800.