How to Receive Bonuses?
To make the most of your BoylesGames Experience, it is advisable to keep up to date with our ongoing and exclusive promotional offers, full details of which can be found on our promotions page.
To receive information on these offers directly, as they go live, you simply need to opt in to receive marketing communications. This can be updated via the 'Contact Preferences' section, through 'My Account' and save the changes:

How can I tell if I have a Bonus?
Any bonuses acquired through promotions will either be added as a direct 'Cash/Cashback Bonus', a 'Pre-Wager Cash Bonus' or a 'Free Spins/Free Rounds Bonus'.
For all bonuses credited, you will receive a notification via your Boylesports inbox, to inform you and to advise of the relevant T&Cs.

Cash/Cashback Bonuses
When a cashback bonus is added to your account, you should immediately notice the adjustment to your cash balance, which displays on the upper right side of the website.

If you wish to confirm that the updates to your balance is for a cash back promotion, you can simply go to the 'Account History' section of your account.
Under 'View' select 'All Transactions' , chose the relevant time frame and click on search. The transaction will show as a 'credit' with a description detailing its purpose, see below example: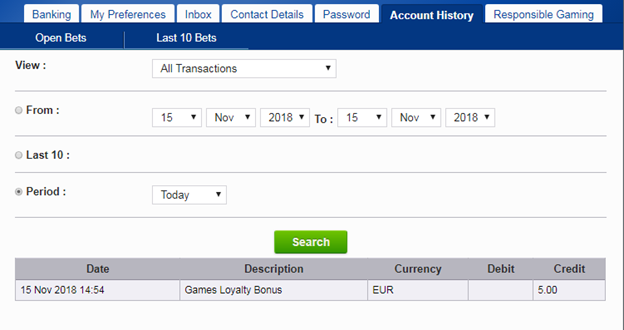 Pre-Wager Cash Bonus
Pre-wager bonuses work very similar to the above cashback bonuses, in that your account balance will update immediately, with your bonus funds meaning you can use them with your real cash to play even more!
Each pre-wager bonus however will have a set of wagering requirements which must be met before a withdrawal is permitted. The relevant wagering requirements will be outlined in the Terms and Conditions.
The wagering may be specific to certain games, all of which would have 100% contribution towards completing the bonus. If it was a case that qualifying games were specific, a full list would be made available through the Terms and Conditions and in the notification issued to your inbox.