We've recently increased the amount of Sports we offer the Cash Out feature on. Here are some things we feel people need to know about Cash Out:


What is cash out?
Cash Out is an option to settle your bet and take a percentage of the possible returns were the bet to win.
The settlement value offered will fluctuate depending on the likelihood of the bet winning and could be than the initial stake placed on the bet.
In short, the feature allows to easily cash out on a favorable position for a guaranteed return or limit your losses by cashing out for a lower return, as opposed to a loss.


What bets can I cash out on?
Cash Out is available on selected events, fixtures and markets both pre-match and In-Play, on single and multiple bets, for the following:
Football

Tennis

GAA

Snooker

Darts

Rugby

Cricket

Baseball

Basketball

Ice Hockey

Horse Racing (Except US Racing)

Golf
*BoyleSports cannot guarantee that the Cash Out feature will be available on your bet selection. Where Cash Out is available pre-event and we do not cover the event In-Play then Cash Out will be unavailable once the event starts*

Cash Out Terms
In order to avoid the abuse of promotions offered by BoyleSports from time to time, Cash Out is not available in respect of free bets, bets placed using non-withdrawable funds or any bets placed which would qualify customers to receive a free bet, bonus or promotion.

In the unlikely scenario that a Cash Out value (or a price relating to a Cash Out value) has been incorrectly offered, BoyleSports reserves the right to take corrective measures to rectify such errors, including, where applicable, settling the Cash Out request for an amount equivalent to the Cash Out value which would have been available in the absence of such error.

We reserve the right to amend, suspend or remove Cash Out availability at any time on any market or to any customer.

How quick Is Cash Out?
Cash out offers are made in real time when available.
If a price changes or a market suspends however then the Cash Out request may not be successful.

How do I know which matches are eligible for Cash Out?
On Desktop, there will be a cash out icon

indicated for any matches, where cash out is applicable in-play: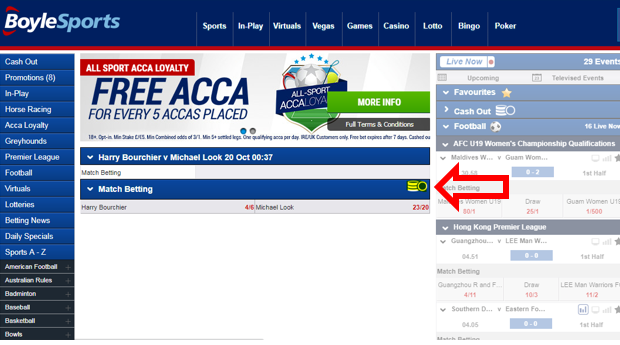 On Mobile, as opposed to an Icon, it will simply indicate Cash Out where cash out is applicable in play: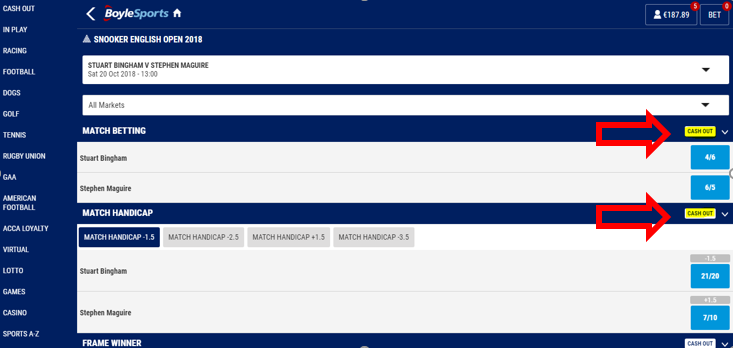 How to Cash Out?
Don't worry, there's not much to it!
On Desktop, after you have placed your bet on your chosen selection and decide, while it is in-play, that you wish to cash out or simply want to consider the cash out offer at any stage throughout the match, you need to go to the In-Play tab and select Cash Out, as below: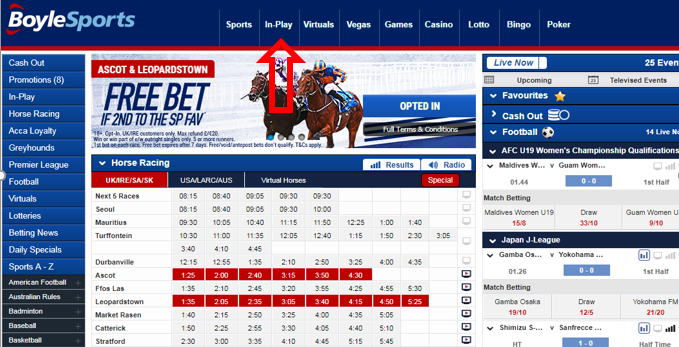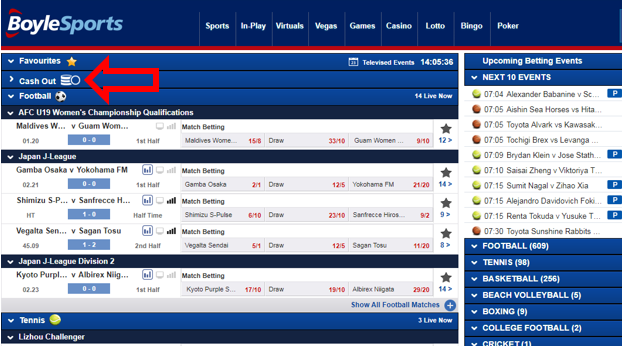 On Mobile, rather than go to in-play, you can go straight to Cash Out tab, located on top left hand corner of the screen:



Any available bets for cash out will be visible within this section with the appropriate cash offer visible: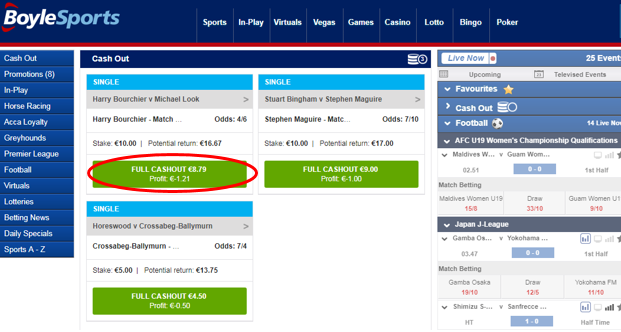 If you decide you want to accept offer, you just click on Full Cashout.
This will generate a second screen, on which you need to confirm whether you want to complete the cash out.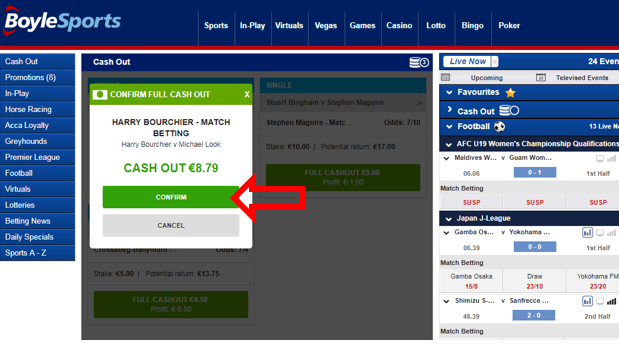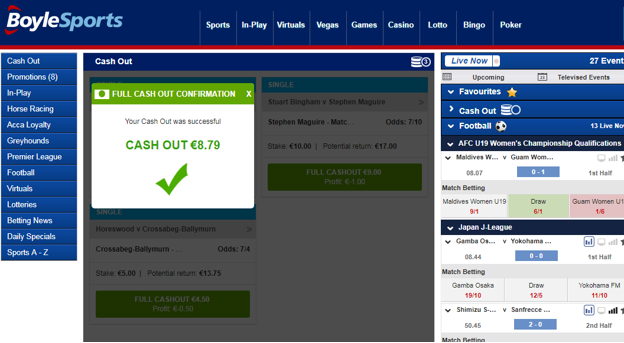 Where does my bet go after I cash out?
Bets that have been Cashed Out, will no longer be visible on the Cash Out tab. Instead they can be viewed through Account History through My Account.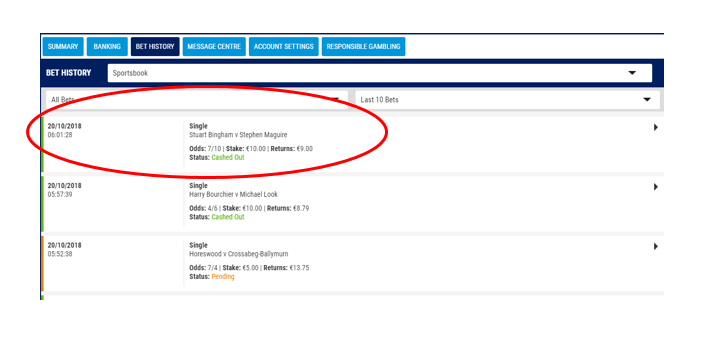 Markets for Cash Out
Football
Match Betting
Total Goals U/O
Handicap
Both Team to Score
Tennis
Match Betting
Total Games U/O
Total Sets U/O
Set x Winner
Set Handicap
Set x Game x Winner
DARTS
Match Betting
Handicap
Total Sets U/O
Total 180s
Most 180s
GAA
Match Odds
Handicap
Both Teams to Score
Team to Score Xth Goal
Rugby Union
Rugby League
Snooker
Match Betting
Handicap
Total Frames Over/Under
1st 4 Frames
1st 8 Frames
X Frame Winner
Race to x Frames
Baseball
Basketball
NFL
Ice Hockey
Cricket
Match Betting
Draw No Bet