What is Boyle's All-Stars?
Boyle's All-Stars is a free-to-play promotion offered by Boylesports. If you qualify for this promotion, you'll be able to play once a day to win a reward from the range available.
The rewards available are:
Sports Free Bet
Free Spins on selected games in Boylesports Games and Boylesports Casino
Golden Chips to use in Boylesports Live Casino.
To play simply click 'spin here' on the Boyle's All-Star promotional page in Boylesports Games, Boylesports Casino or BoyleSports Live Casino.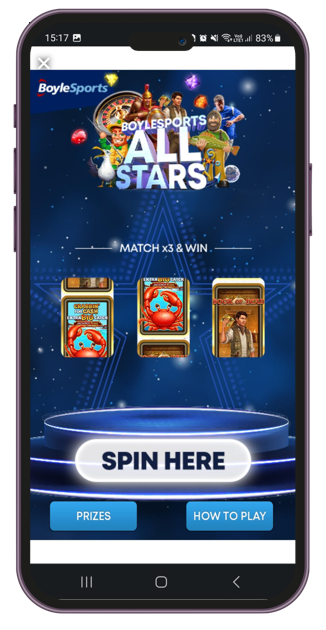 Once the game has finished, you will be presented with your reward. Press "Accept" to have the reward credited to your account by 17:30 UK/IRE time the following day.
When Will I Get My Reward?
Your reward will be credited to your account by 17:30 UK/IRE time, the day after you have played. We will send you an inbox message once it has ben added to your account.
How Will I Know the Reward Has Been Credited to My Account?
We will send you an inbox message when the prize has been credited. The message will include full details of the reward and a link to use it.
How Long Do I Have to Claim my Reward?
Your reward will be available on your account for 24 hours from the time the inbox is sent to you.
Why Haven't I Received my Reward?
There is a small chance that awards can be delayed. Should this happen, we will ensure that your rewards are credited within 72 hours of the time they were initially due to be credited.
Why did you credit a different Reward?
If for any reason we are unable to credit your reward on the advertised game, we will give you an alternative reward of at least the same value. If this happens, we will give you full details by inbox message when we credit the reward.